MisBehaved Woman:
Common sense has completely vanished…what are we doing to our children?! Insanity…just…insanity.
Originally posted on Family Survival Protocol - Microcosm News:
Jessica Maher
Denver Post
Wed, 06 Feb 2013 12:12 CST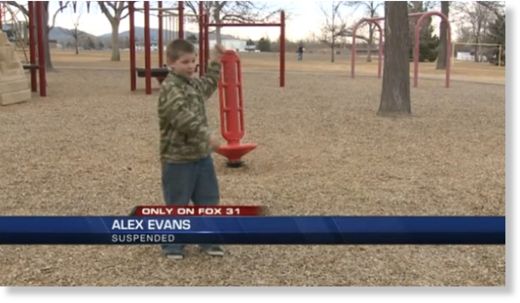 © screengrab via KDVR
A 7-year-old Mary Blair Elementary School student says he's confused about getting in trouble for trying to save the world from evil, though Thompson School District officials contend that the boy broke one of the school's "absolutes."
Parent Mandie Watkins said Mary Blair principal Valerie Lara-Black called her Friday afternoon to inform her that her second-grade son, Alex, had been suspended for throwing an imaginary grenade during recess on the playground.
Alex did not have anything in his hand at the time and made no threats toward other people, Watkins reportedly was told.
Watkins said Alex's story matched up with the principal's account: He threw the pretend grenade at an imaginary box that had something evil inside.
He was going to save the earth this way, and when he threw the grenade he pretended that the…
View original 174 more words