Where oh where does our (war) money go..?
Apparently it goes where ever the hell DoD decides it should…
Who are we mere debt mules to question the great & wise (corporate owned) congressional budget committees?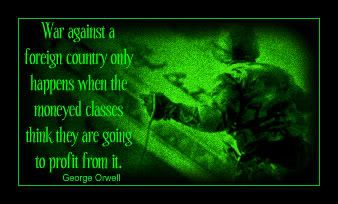 What kind of legacy are we living future generations if we continue to spend beyond our means in both dollars and human lives in order & continue to feed the profiteering war mongers?
"We annually spend on military security more than the net income of all United States corporations. This conjunction of an immense military establishment and a large arms industry is new in the American experience. The total influence — economic, political, even spiritual — is felt in every city, every State house, every office of the Federal government. We recognize the imperative need for this development. Yet we must not fail to comprehend its grave implications. Our toil, resources and livelihood are all involved; so is the very structure of our society. In the councils of government, we must guard against the acquisition of unwarranted influence, whether sought or unsought, by the military industrial complex. The potential for the disastrous rise of misplaced power exists and will persist. We must never let the weight of this combination endanger our liberties or democratic processes. We should take nothing for granted. Only an alert and knowledgeable citizenry can compel the proper meshing of the huge industrial and military machinery of defense with our peaceful methods and goals, so that security and liberty may prosper together…" 
Military-Industrial Complex Speech, Dwight D. Eisenhower, 1961
○$○$○
~ Nonexistent Fiscal Accountability ~
In January 2011 Defense Secretary Robert M. Gates stated: "This department simply cannot risk continuing down the same path – where our investment priorities, bureaucratic habits and lax attitude towards costs are increasingly divorced from the real threats of today, the growing perils of tomorrow and the nation's grim financial outlook." 
(Wiki) The US Government Accountability Office (GAO) was unable to provide an audit opinion on the 2010 (and 2011) financial statements of the US Government because of 'widespread material internal control weaknesses, significant uncertainties, and other limitations'. The GAO cited as the principal obstacle to its provision of an audit opinion 'serious financial management problems at the Department of Defense that made its financial statements unauditable'. 
Chief Financial Officer and Under Secretary of Defense Robert F. Hale acknowledged enterprise-wide problems with systems and processes, while the DoD's Inspector General reported 'material internal control weaknesses … that affect the safeguarding of assets, proper use of funds, and impair the prevention and identification of fraud, waste, and abuse'. Further management discussion in the FY 2010 DoD Financial Report states 'it is not feasible to deploy a vast number of accountants to manually reconcile our books' and concludes that 'although the financial statements are not auditable for FY 2010, the Department's financial managers are meeting warfighter needs'.
○$○$○
~ Globalization ~ 
Secretary of Defense Leon Panetta Speaking about meeting of NATO defense minsters in Brussels, Belgium, Feb. 2, 2012:
 "It was important to make clear to our European allies that even as our posture there evolves, we remain committed to NATO – the most successful military alliance in history – and we'll continue to maintain an innovative, robust, and visible presence in Europe. As part of that robust presence, I told our allies that we will soon begin rotating a battalion-sized task force to Germany for exercises and training, as part of the rapidly deployable NATO Response Force, and we will also establish an aviation detachment in Poland to provide better training opportunities. We are also moving ahead with European missile defense – establishing land-based SM-3 missile sites in Romania and Poland, deploying Aegis Ballistic Missile Defense ships to Spain, and a radar in Turkey."
Now is a time for every NATO nation to make the most of the fiscal and security challenges we face to become more united as an Alliance and to strengthen our collective capabilities through such initiatives as Smart Defense. We took a big step forward on this front with an agreement to fund the Alliance Ground Surveillance system – consisting of five Global Hawk unmanned aerial vehicles and a ground control station. AGS has been in the works for many years, and is the first ISR capability NATO has ever purchased as a pooled resource.
Unified Combatant Command
A Unified Combatant Command is a single force composed of personnel and equipment
from at least two Military Departments, which has a broad and continuing mission.

The United States currently has 9 Combatant Commands:
U.S. Northern Command (USNORTHCOM)
U.S. Southern Command (USSOUTHCOM)
U.S. Central Command (USCENTCOM)
U.S. European Command (USEUCOM)
U.S. Pacific Command (USPACOM)
U.S. Africa Command (USAFRICOM)
U.S. Strategic Command (USSTRATCOM)
U.S. Special Operations Command (USSOCOM)
U.S. Transportation Command (USTRANSCOM)
○$○$○ 
The Silent Colonization? 
U.S. Africa command received $274 million in Fiscal Year 2010.
The Obama administration has requested $298 million for the command for Fiscal Year 2011.
AFRICOM Mission: Africa Command protects and defends the national security interests of the United States by strengthening the defense capabilities of African states and regional organizations and, when directed, conducts military operations, in order to deter and defeat transnational threats and to provide a security environment conducive to good governance and development. 
AFRICOM  Activities & Factsheets
 Washington Times 2-6-2012 - "They train host nation's forces, and include units from each service, such as the Green Berets, who specialize in irregular warfare and work in small teams no larger than 12. The Green Berets also build roads, schools, provide health care and live among locals, speaking their language."
○$○$○ 
Two types of SAP exist: acknowledged and unacknowledged. The existence of an acknowledged SAP may be publicly disclosed, but the details of the program remain classified. An unacknowledged SAP (orUSAP) is made known only to authorized persons, including members of the appropriate committees of the United States Congress. Waived SAPs are a subset of unacknowledged SAPs in the Department of Defense. These SAPs are exempt by statutory authority of the Secretary of Defense from most reporting requirements and, within the legislative branch, the only persons who are required to be informed of said SAPs are the chairpersons and ranking committee members of the Senate Appropriations Committee, Senate Armed Services Committee, House Appropriations Committee, and the House Armed Services Committee.
○$○$○ 
United States Special Operations Command \ President's Budget FY 2012 \
RDT&E Program. UNCLASSIFIED. Volume 5 Table of Contents. Comptroller Exhibit …
comptroller.defense.gov/defbudget/fy2012/budget…/SOCOM.pdf
The U.S. Army Special Operations Command is the largest of the service components that make up U.S. Special Operations Command and provides about 70 percent of the special operations personnel in Central Command's theatre. On any given day, dozens of USASOC elements are deployed around the world.
Made up of 26,000 personnel, USASOC combines a vast range of warfighting skills, from raiding and airfield seizures, to human-terrain mapping and cultural analysts.
~ $ Bringing Industry & War Together $~
Goal: Increase private sector commercialization of federal R&D
2012 Budget Request for U.S. Central Command and U.S. Special Operations Command
March 2011
○$○$○
Research & Development 
 Defense Advanced Research Projects Agency • President's Budget FY 2012 • RDT&E Program
Darpa Dodges Obama Budget Death Ray, Keeps Its $2.8 Billion
The agency will invest $50 million to push the envelope on hypersonics — the ability to race through the air at five times the speed of sound or more. It's key to the Pentagon's plan to strike any target on Earth in less than an hour.
According to the budget that the agency released Monday, Darpa plans new programs to make computing clouds secure enough for the Pentagon. (There's that cyber defense again.) It will investigate ways to peer into underground lairs using "acoustic, seismic, electromagnetic, chemical, resistivity, conductivity, lidar, multi/hyperspectral, and gravity/gravity gradient" sensors. (Watch out, Iran.) And the agency will try to create the building blocks for "Living Foundries" — "a revolutionary, biologically based manufacturing platform … leveraging biology to solve challenges associated with production of new materials, novel capabilities, fuels and medicines."
Drones & Robots Feb 4, 2012
Daily Tech – DARPA plans to use semi-autonomous bi-pedal machines to take on certain tasks that soldiers currently endure.
The robot surrogates would be expected to take on duties such as sentry control, combat casualty recovery and room clearing. The robots would be controlled by a human soldier counterpart.
DARPA, which is setting aside $7 million of its $2.8 billion 2013 budget for project Avatar, will create the robots using algorithms, interfaces,  and advancements in telepresence  that allow the agency to ultimately throw the robot surrogates onto the battlefield instead of soldiers.